Mastering Model Railroading,

Getting the results you want.

Electronics & Animation - Vol. 1

Lighting With Surface Mount LED's

by Laurie McLean, MMR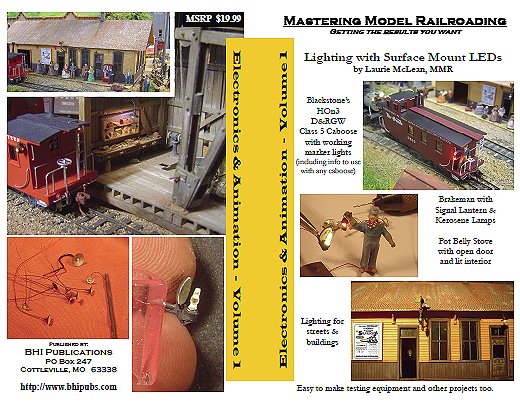 Below are a sampling of pages from the book.

Because of the actual USPS shipping costs, we highly recommend getting more than 1 book/title at a time. If there is no
"Add-To-Cart"
button on a specific title's webpage, contact us directly at:  
[email protected]
to add any of them to your order.

For those modeling the D&RGW narrow gauge lines and wanting to get even more information on the DRGW Cabooses, we highly recommend the following books as well: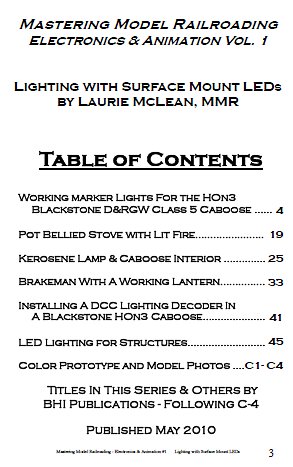 This title covers how to install working marker lights using surface mount LEDs in the Blackstone HOn3, D&RGW long caboose with alternatives for any caboose operating on DCC systems as well as how to install a function only DCC decoder to control all of the caboose lighting projects in the book individually. Even though this book uses an HOn3 caboose as the example, the same techniques are applicable in most other scales and even standard gauge equipment too.

See the Table of Contents to the right --------->

This book has 50 pages with B&W photos & drawings plus

4 pages of full color model & prototype photos

This book is spiral bound so it lays flat and has heavy duty,

full color, paper covers and is

8 1/2" tall and 5 1/2" wide.

Sample pages are below.

MSRP $24.99 + s&h