This book is 9" x 11" & weighs 3+ lbs.

MSRP $79.99 + s&h

(shipped boxed via USPS Priority Mail where possible)

To the rest of the world the shipping is actual USPS Priority Mail, Medium sized, Flat Rate Box postage.

If you are familiar with PayPal, just add in the appropriate shipping and send it, otherwise just

e-mail us and we will send you a correct invoice.

This button is to have it shipped to a

US Address and has been adjusted to give

the correct final price including shipping.

This book has 358 pages containing a mixture of B&W

photos; tables defining use or construction specifications of certain classes of rolling stock; blueprints, folios, & assorted other drawings; and significant historical and technical data.

This is the most complete reference volume on the

D&RG / D&RGW Narrow Gauge Freight Cars ever produced.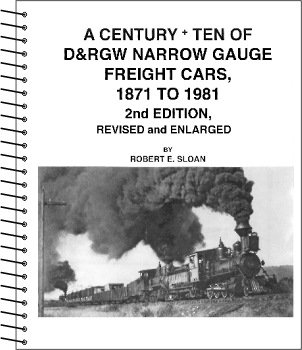 Below are some sample pages from the book.

Some have been rotated for easier viewing.

Even with dozens of proofreaders with this much data and outright

new information to be distilled, there were a few typos that crept in.

The 2nd Edition of this book corrects the 1,200+ errors and

omissions found in the 1st Edition and includes over 60 new pages

of information and is a must have item for any serious modeler, manufacturer, or fan of the D&RG / D&RGW narrow gauge lines.

Most of the errors in the 1st Edition crept in due to incomplete or inaccurate information gathered 1970-1999. With the widespread use of the Internet

(post-1999), scholars & researchers could share and expand upon information

that otherwise was not generally known and include previously "lost" information.

A Century + 10 of D&RGW Narrow Gauge Freight Cars, 1871-1981   2nd Edition

by Robert E. Sloan

Because of the shipping costs, we highly recommend getting more than 1 book/title at a time.

The flat rate boxes hold generally at least 8 more Quick Pic sized books or 3 more C+10 or 5 Folios.