ERRATA AND ADDITIONAL INFORMATION

Most chapters have

Quick Pic Books covering cars in them to show all the details.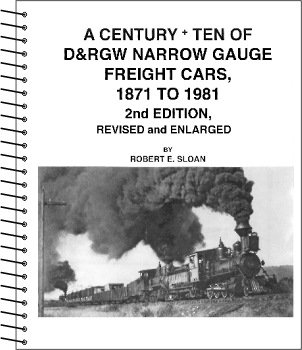 The 2nd Edition of this book corrects the 1,200+ errors and

omissions found in the 1st Edition and includes over 60 new pages

of information and is a must have item for any serious modeler, manufacturer, or fan of the D&RG/D&RGW narrow gauge lines.

Most of the errors in the 1st Edition crept in due to incomplete or inaccurate information gathered 1970-1999. With the widespread use of the Internet

(post-1999), scholars & researchers could share and expand upon information

that otherwise was not generally known and include previously "lost" information.

A Century + 10 of D&RGW Narrow Gauge Freight Cars, 1871-1981   2nd Edition

by Robert E. Sloan

Post-publication additions

4 examples of 5900 Stock Cars found on local ranches, Car# 5995 aquired by Friends of the Cumbres & Toltec for restoration in 2008

Errata

5900 stock cars: Section stated none survived to the present -see additions

Table headers on Dan Pyzel's   700-799 series Drop Bottom Gon chart on pg. reversed

Mike Conder's name misspelled on pg.

Errors in the Second Edition have been limited to typographic ones and ones

due to newly discovered information.