This book is spiral bound so it lays flat and has heavy duty,

full color, paper covers and is

8 1/2" tall and 5 1/2" wide.

Sample pages are below.

MSRP $19.99 + s&h

(all shipped via USPS Priority Mail)

This book covers how to build and select interior and exterior details for urban & railroad structures appropriate for the 20th century era of railroading. It shows how to build modular interior components including lighting & furnishings to fill a structure such as a Freight House or Union Station that can easily be applied to any size structure. There is also an entire section on how to model the Harvey House eating establishments seen along the Santa Fe, KP, Frisco, and KC Terminal Railroads that can easily

be modified to represent any restaurant, cafe, or greasy spoon in the US from the mid 1800's to now and serving clientele from the top of the social ladder to normal everyday people. There are also chapters on RTV Molds and Casting; Adding sound effects; and a simple way to get unusual & unique structures customized for your layout, PLUS how

to integrate many details that bring them to life.

Mastering Model Railroading,

Getting the results you want.

Towns, Cities, & Structures - Vol. 1

Modular Interiors for Urban Structures

by Nick Muff, MD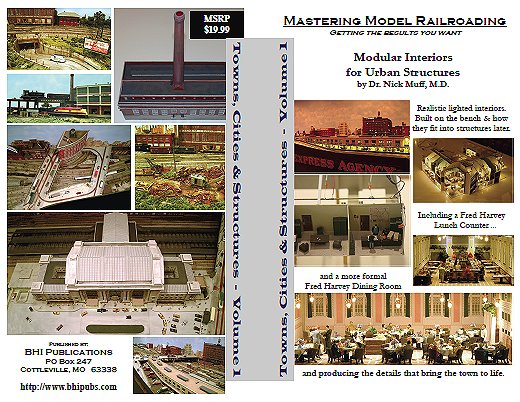 Below are a sampling of pages from the book.

Because of the actual USPS shipping costs, we highly recommend getting more than 1 book/title at a time. If there is no
"Add-To-Cart"
button on a specific title's webpage, contact us directly at:  
[email protected]
to add any of them to your order.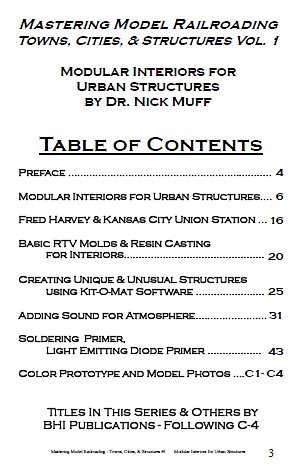 This book has 48 pages with photos & drawings plus 4 pages of full color photos