Bridgton & Saco River Railroad /

Bridgton & Harrison Railroad

Tank Cars 21/14 & 22 

A Modeler's Reference

by Peter S. Barney & Tim Mulina

This book is spiral bound so it lays flat and has heavy duty,

full color, paper covers and is

8 1/2" tall and 5 1/2" wide.

Sample pages are below.

MSRP $24.99 + s&h

This book has 76 pages with 221 photos & drawings.

This book covers these cars in both historical images from the Bridgton & Saco River Railroad through the years of the Bridgton & Harrison Railroad until the end of operations of that road. It has vintage photos of the cars at Bridgton Junction while the road was awaiting final disposition and then on to Ellis Atwood's railroad, EDAVILLE.

Ellis Atwood enjoyed the tank cars so much

they often were seen running in his passenger

car consists around his Mass. cranberry bogs.

Eventually the cars/tanks moved back to Maine to the Narrow Gauge Museum in Portland where we were able to take hundreds of photos of the

details on the cars that modelers, manufacturers and historical researchers all look for. As of this writing , #22 is on display along Maine Route 302

in front of the Bridgton Chamber of Commerce building, while #14's tank is at Sheepscot, Maine where it is awaiting restoration.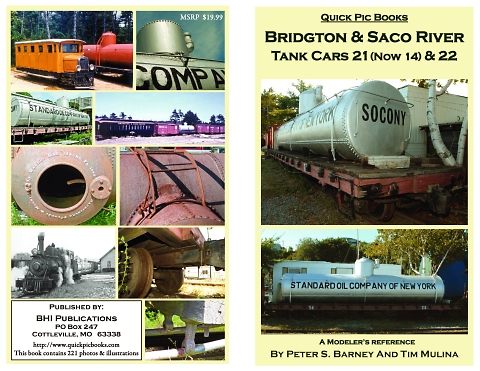 Below are some sample pages from the book.

Because of the actual USPS shipping costs, we highly recommend getting more than 1 book/title at a time. If there is no
"Add-To-Cart"
button on a specific title's webpage, contact us directly at:  
[email protected]
to add any of them to your order.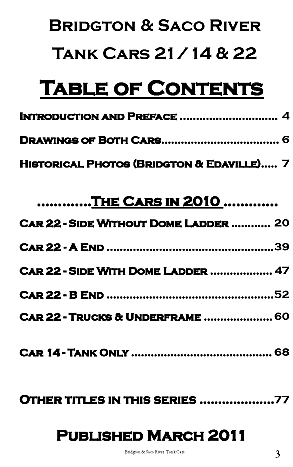 Click the links to our other B&SR titles: