Mastering Model Railroading,

Getting the results you want.

Scenery - Vol. 1

Plastering Mountain Scenes

by Randy Meyer, MMR

This book is spiral bound so it lays flat and has heavy duty,

full color, paper covers and is

8 1/2" tall and 5 1/2" wide.

Sample pages are below.

MSRP $19.99 + s&h

(all shipped via USPS Priority Mail)

This book covers how to make mountain scenery

using Plaster and Plaster-like materials as well

blending in natural materials too. It discusses the

primary methods of supporting the basic land

forms before going into what Randy has found to

be the best long term solution to them. He takes

you from the raw benchwork stage, up through

supporting the mountain landforms, through

using an assortment of molds to give greater

  realism and save you time. Randy demonstrates

how to blend the filled molds all together for

a complete and finished appearance. The book

wraps up with coloring the mountains and the

choosing and placement of the final details that

truly bring a scene to life for mountain railroads.

This is a great book for techniques

as well as ideas for modeling!

This book has 44 pages with photos & drawings

plus 8 pages of full color photos.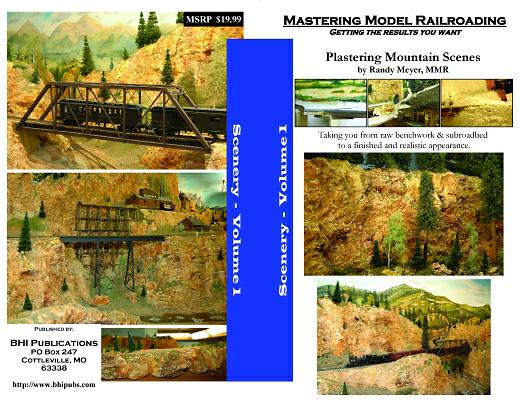 Below are a sampling of pages from the book.

Because of the actual USPS shipping costs, we highly recommend getting more than 1 book/title at a time. If there is no
"Add-To-Cart"
button on a specific title's webpage, contact us directly at:  
[email protected]
to add any of them to your order.