West Side Lumber Company

Shays 8, 12, & 14 on the

Georgetown Loop Railroad

Our Quick Pic Book series shows the subjects in extensive black & white

photographs which have often been digitally edited to best exhibit the details.

This book shows all the details of these units and include many photos of them undergoing major maintenance that included removing trucks and shopping. Lindsay Ashby & George Johnson of the GLRR went out of their way to help in the production of this book and to make sure we had complete access to the equipment & shops making this the most comprehensive detail photograph book ever on these units.

They no longer are at the Georgetown Loop so these photos can never be reproduced.

This book has 66 pages with 95 B&W photos

This book is spiral bound so it lays flat and has heavy duty,

full color, paper covers and is

8 1/2" tall and 5 1/2" wide.

Sample pages are below.

MSRP $19.99 + s&h

(all shipped via USPS Priority Mail)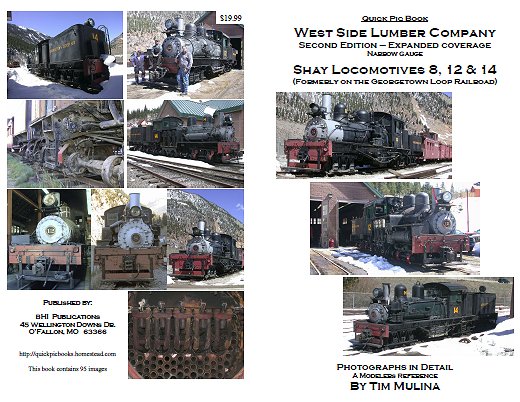 Below are a sampling of pages from the book.

Because of the actual USPS shipping costs, we highly recommend getting more than 1 book/title at a time. If there is no "Add-To-Cart" button on a specific title's webpage, contact us directly at:   sales@bhipubs.com

to add any of them to your order.