Rio Grande Southern Railroad

Flatbed Work Goose #6

Our Quick Pic Book series shows the subjects in extensive black & white photographs which have often been digitally edited to best exhibit the details.

This Goose was used by the Maintenance of Way crew to help keep

the line safe. In the book you see all sides, top, underneath, inside

and all the rest of the details you want to see. Accessories

are discussed and additional information about this unit

are also in the many captions throughout the book.

It can be seen in person at the Colorado Railroad Museum in Golden, CO

This book has 50 pages with 81 B&W photos

This book is spiral bound so it lays flat and has heavy duty,

full color, paper covers and is

8 1/2" tall and 5 1/2" wide.

Sample pages are below.

MSRP $15.99 + s&h

(all shipped via USPS Priority Mail)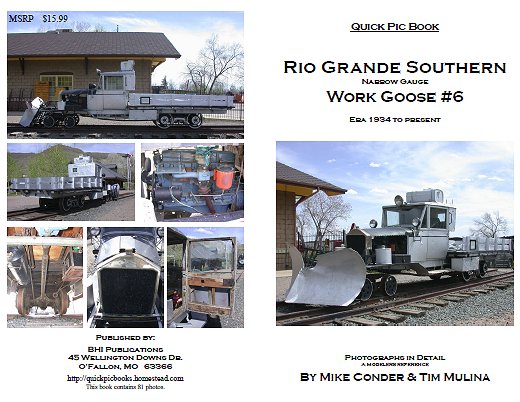 Below are some pages from the book.

Because of the actual USPS shipping costs, we highly recommend getting more than 1 book/title at a time. If there is no
"Add-To-Cart"
button on a specific title's webpage, contact us directly at:  
[email protected]
to add any of them to your order.