Below are a sampling of pages from the book.

Because of the actual USPS shipping costs, we highly recommend getting more than 1 book/title at a time. If there is no
"Add-To-Cart"
button on a specific title's webpage, contact us directly at:  
[email protected]
to add any of them to your order.

Our Quick Pic Book series shows the subjects in extensive black & white photographs which have often been digitally edited to best exhibit the details.

This car was built in the Sumpter Valley's own South Baker City shops

and ran on the SV for quite a while until it was taken by the Army for

use on the White Pass & Yukon during WW2. It wore road number USA 911

during the war years and after the war stayed up on the White Pass as

WP&Y 911 until retired. It was later used as a shed and then recently it

was saved by the group which is restoring the Sumpter Valley and it was

restored inside and out. This book shows all the details of it as it is

restored. The group restoring it used the original SV data and plans

that they have for this restoration so it is as accurate as can be done.

This book has 66 pages with 129 B&W photos

This book is spiral bound so it lays flat and has heavy duty,

full color, paper covers and is

8 1/2" tall and 5 1/2" wide.

Sample pages are below.

MSRP $17.99 + s&h

(all shipped via USPS Priority Mail)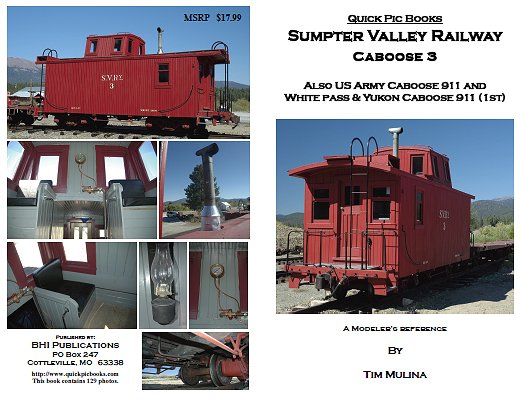 Sumpter Valley Railway

Caboose 3

SV Bookmarks & Magnets