This book includes photos and drawings from the era prior to the SRRL where necessary to show the heritage of many of these cars built for other roads

originally. Those roads include the Billerica & Bedford "A" (SRRL #4), the

SRRL #551-555 whose heritage include the B&B, Sandy River Railroad, Franklin & Megantic, and Phillips & Rangeley plus the purpose built SRRL 556-558. It includes an

inventory of appurtences on the cars from the 1932 Receiver's Inventory plus other vintage photos.There are also some more recent photos of the surviving equipment. 

This book has 70 pages, 79 B&W photos, and 18 assorted plans and drawings

This book is spiral bound so it lays flat and has heavy duty, full cover, paper covers and is

8 1/2" tall and 5 1/2" wide.

Sample pages are below.

MSRP $19.99 + s&h

(all shipped via USPS Priority Mail)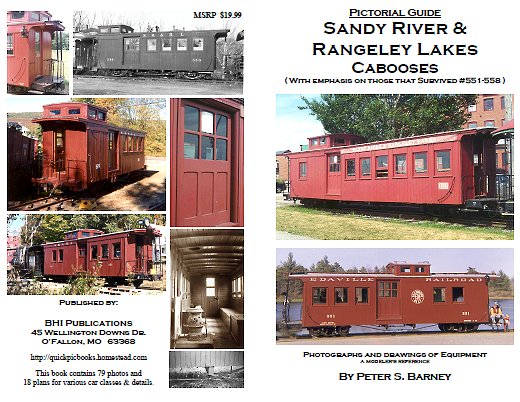 Below are a sampling of pages from the book. Just click

on a page and they will expand with a menu at the top.

Because of the actual USPS shipping costs, we highly recommend getting more than 1 book/title at a time. If there is no "Add-To-Cart" button on a specific title's webpage, contact us directly at:   sales@bhipubs.com

to add any of them to your order.

Sandy River & Rangeley Lakes

Cabooses

We have a number of laminated bookmarks & 2"x3 1/2"magnets available on Maine 2' railroads and the towns around them.

Here are links directly to some of those webpages:

Bookmarks