This Pictorial Guide book shows the subjects in vintage B&W photographs

which have often been digitally edited to best exhibit the details.

This book includes the photo-essay "When the Slim Princess Stubbed Her Toe"

and is a compilation of photos taken over a decade by lifelong SPng fan and photographer Maurie Walker. They include a series of photos of the last year

the SPng ran in service as well as photos taken later at locations where the

equipment ended up after the railroad was abandoned by the Southern Pacific RR.

This book has 74 pages with 114 B&W photos

This book is spiral bound so it lays flat and has heavy duty,

full color, paper covers and is

8 1/2" tall and 5 1/2" wide.

Sample pages are below.

MSRP $22.99 + s&h

(all shipped via USPS Priority Mail)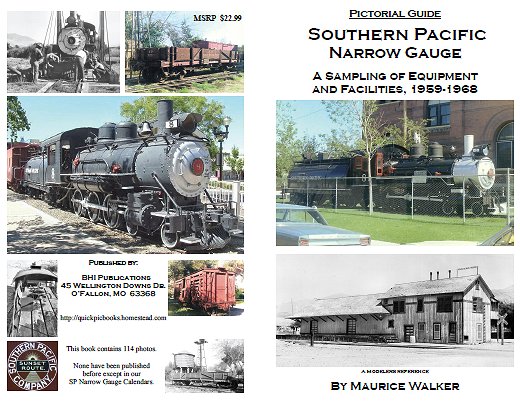 Below are a sampling of pages from the book.

Because of the actual USPS shipping costs, we highly recommend getting more than 1 book/title at a time. If there is no
"Add-To-Cart"
button on a specific title's webpage, contact us directly at:  
[email protected]
to add any of them to your order.