Rio Grande Southern Railroad

Goose #7 

3 truck, Pierce-Arrow front & tourist / freight box back

Our Quick Pic Book series shows the subjects in extensive black & white photographs which have often been digitally edited to best exhibit the details.

This Goose is the heaviest of the fleet of original Geese. It has recently

been fully rebuilt and restored by the crews of the Colorado Railroad Museum

in Golden, CO. This book shows the Goose all 4 sides, underneath including drive mechanism & frame, inside the Pierce Arrow front end as well as inside the motor compartment plus the rear passenger area where few have published photos before.

It can be seen in person at the Colorado Railroad Museum in Golden, CO

This book has 98 pages with 298 B&W photos

This book is spiral bound so it lays flat and has heavy duty,

full color, paper covers and is

8 1/2" tall and 5 1/2" wide.

Sample pages are below.

MSRP $27.99 + s&h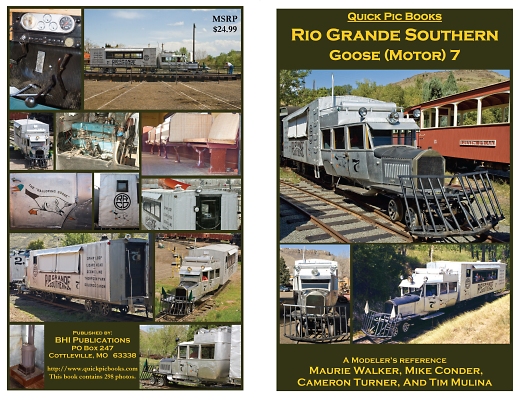 Below are a sampling of pages from the book.

(each page is about 200k so allow time to load)

Because of the actual USPS shipping costs, we highly recommend getting more than 1 book/title at a time. If there is no
"Add-To-Cart"
button on a specific title's webpage, contact us directly at:  
[email protected]
to add any of them to your order.