Rio Grande Southern Railroad

Locomotive #20

(ex -Florence & Cripple Creek RR)

Our Quick Pic Book series shows the subjects in extensive black & white photographs which have often been digitally edited to best exhibit the details.

Rio Grande Southern Locomotive #20 was originally one of five of this class that

was built for the Florence & Cripple Creek Railroad but it is most well known on the RGS where it frequently was the motive power used on Rocky Mountain Railroad

Club excursions over the line. Eventually at the end of the RGS, the Rocky Mountain Railroad Club bought #20 and has had it on display at the Colorado Railroad

Museum for years where it can be enjoyed by many. Of the other 4 in the class,

two more came to the RGS one as their #25 and the other as their #24. The

other two went to the Nevada-California-Oregon as their # 22 & #23. N-C-O

number 22 was later sold to the Southern Pacific and kept the same number.

This book has 66 pages with 132 B&W photos

This book is spiral bound so it lays flat and has heavy duty,

full color, paper covers and is

8 1/2" tall and 5 1/2" wide.

Sample pages are below.

MSRP $25.99 + s&h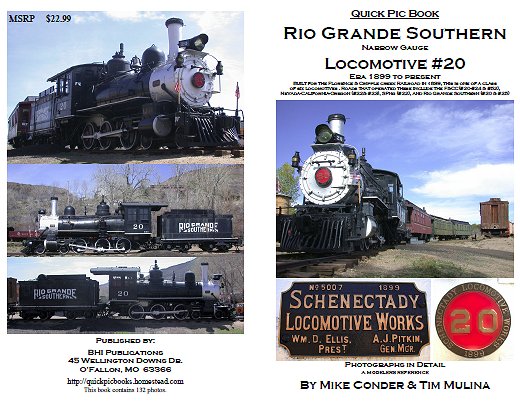 Below are some pages from the book.

Because of the actual USPS shipping costs, we highly recommend getting more than 1 book/title at a time. If there is no
"Add-To-Cart"
button on a specific title's webpage, contact us directly at:  
[email protected]
to add any of them to your order.