Rio Grande Southern Railroad

Caboose 0404

Our Quick Pic Book series shows the subjects in extensive black & white photographs which have often been digitally edited to best exhibit the details.

This book shows the entire carbody, inside and out and even underneath and on

top for this unique caboose. It is the sole long caboose built for the Rio Grande Southern Railroad. Inside you will see photos that show the placement of the

internal fixtures, often with rulers present in the photos. The purpose of the

rulers is though this is one of the most modeled cabooses on the RGS, there

have been many conflicts between drawings by equally respected draftsmen so

this eliminates possible confusion by allowing the reader judge for themselves. 

This book has 50 pages with 169 B&W photos

This book is spiral bound so it lays flat and has heavy duty,

full color, paper covers and is

8 1/2" tall and 5 1/2" wide.

Sample pages are below.

MSRP $19.99 + s&h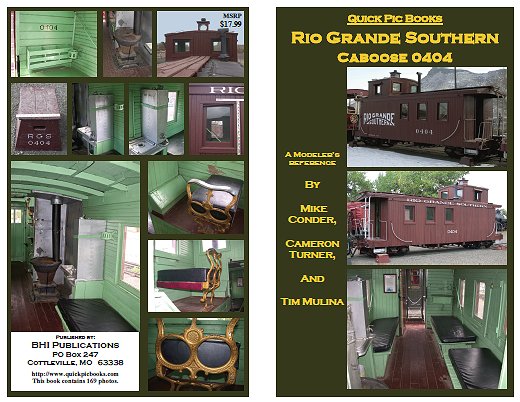 Below are sample pages from the book.

Because of the actual USPS shipping costs, we highly recommend getting more than 1 book/title at a time. If there is no
"Add-To-Cart"
button on a specific title's webpage, contact us directly at:  
[email protected]
to add any of them to your order.