Rio Grande Southern Railroad

Bunk / Outfit Car 01789

Our Quick Pic Book series shows the subjects in extensive black & white photographs which have often been digitally edited to best exhibit the details.

This book shows the entire carbody, inside and out and even underneath and on

top for this car. This car is unique in that it is the correct carbody for a number

of other railroads including the Silverton Northern #100-109, Silverton Railroad #500-544, D&RG/D&RGW #(0)4000-4099, US Naval Base-Pearl Harbor (1942 on). This particular car was used in many areas of M-O-W service but especially in Water Service, making sure that the tanks had enough flowing water and were in good repair for the locomotives running the line. It is at the Colorado Railroad Museum. 

This book has 58 pages with 118 B&W photos

This book is spiral bound so it lays flat and has heavy duty,

full color, paper covers and is

8 1/2" tall and 5 1/2" wide.

Sample pages are below.

MSRP $19.99 + s&h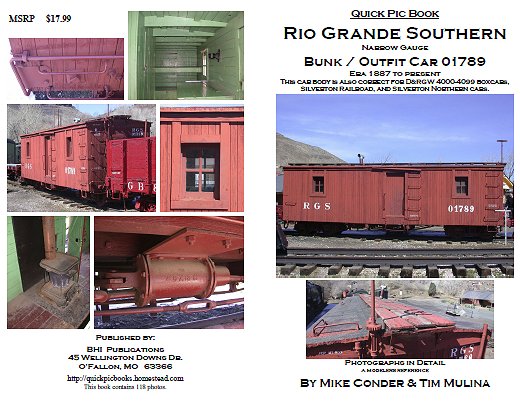 Below are sample pages from the book.

Because of the actual USPS shipping costs, we highly recommend getting more than 1 book/title at a time. If there is no
"Add-To-Cart"
button on a specific title's webpage, contact us directly at:  
[email protected]
to add any of them to your order.