Florence & Cripple Creek Railroad

Our Quick Pic Book series shows the subjects in extensive black & white

photographs which have often been digitally edited to best exhibit the details.

These cars originally were built new by the Michigan Peninsular Car Company

which was one that was merged together to form American Car & Foundry (ACF)

and is considered the precursor to most of the DRGW, C&S, and RGS rolling stock built by ACF in the 1900-1915 time frame. Design aspects of this class can be found in the DRGW 3000 boxcars, 5500 Stock cars, and 30' Class 4r Reefers; the C&S/RGS wooden underframe stock cars, and others. Cars from this group ended up in service on the Nevada-California-Oregon, Nevada County Narrow Gauge, SPng, Pacific Coast Railway, Montana Southern, US Naval Base-Pearl Harbor, and Magma Arizona.

This book shows all the details of the car as it is today all around and underneath too.

This book has 66 pages with 122 B&W photos

This book is spiral bound so it lays flat and has heavy duty,

full color, paper covers and is

8 1/2" tall and 5 1/2" wide.

Sample pages are below.

MSRP $19.99 + s&h

(all shipped via USPS Priority Mail)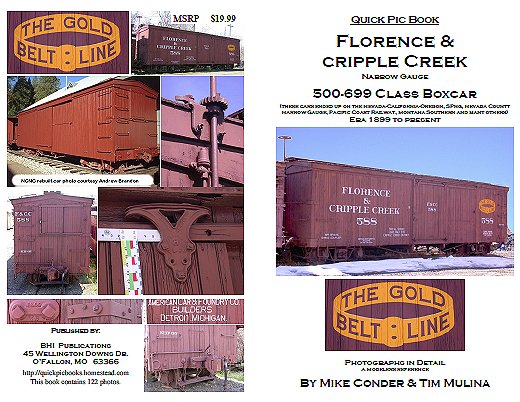 Below are a sampling of pages from the book.

Because of the actual USPS shipping costs, we highly recommend getting more than 1 book/title at a time. If there is no
"Add-To-Cart"
button on a specific title's webpage, contact us directly at:  
[email protected]
to add any of them to your order.