Our Quick Pic Book series shows the subjects in extensive black & white

photographs which have often been digitally edited to best exhibit the details.

These two locomotives were the beginning of the group of 5 Mikado

2-8-2 type locomotives that provided the majority of the power on the

East Broad Top through the Great Depression, World War 2, and provided

much of the power of the fantrips and weekend operations since 1960.

This book shows the details of the major variations of these cars including

the regular cars, Clay & Water cars, and both door types. Also included are

many vintage photos from Robert L. Harris, and the collection of Rich Keller.

This book has 62 pages with 120 B&W photos

This book is spiral bound so it lays flat and has heavy duty,

full color, paper covers and is

8 1/2" tall and 5 1/2" wide.

Sample pages are below.

MSRP $22.99 + s&h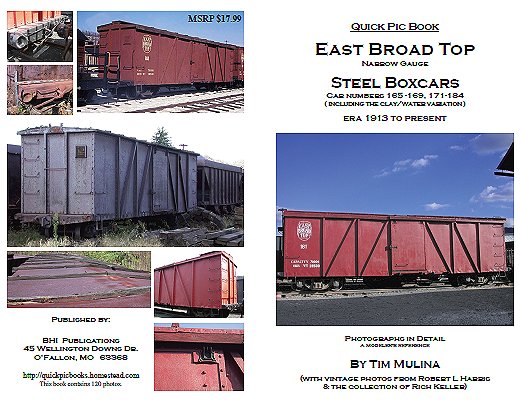 Below are a sampling of pages from the book.

Because of the actual USPS shipping costs, we highly recommend getting more than 1 book/title at a time. If there is no
"Add-To-Cart"
button on a specific title's webpage, contact us directly at:  
[email protected]
to add any of them to your order.

East Broad Top Railroad

Steel Boxcars