Our Quick Pic Book series shows the subjects in extensive black & white

photographs which have often been digitally edited to best exhibit the details.

This car and Combination Car 14 were owned and operated on the Boston, Revere Beach, and Lynn railroad and came to the EBT after that road went under. One of

the conditions of the bankruptcy of the BRB&L railroad is all documents of the road

was destroyed so the actual lineage of them has been a matter of ongoing debate.

Once on the East Broad Top, they were rebuilt from smokers to combination passenger and part baggage cars. This book shows the cars as they are in service today. When rebuilt by the EBT crews, one feature that was left that is unique is

the match striking plates between each seat on the cars. They are different on each car and that detail is photographed on them. The rest of the details including the

air vents, seats, and stoves are shown as well as both compartments of the cars.

This book has 50 pages with 72 B&W photos

This book is spiral bound so it lays flat and has heavy duty,

full color, paper covers and is

8 1/2" tall and 5 1/2" wide.

Sample pages are below.

MSRP $22.99 + s&h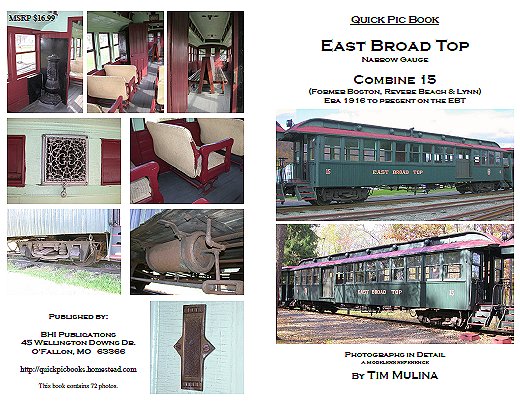 Below are a sampling of pages from the book.

Because of the actual USPS shipping costs, we highly recommend getting more than 1 book/title at a time. If there is no
"Add-To-Cart"
button on a specific title's webpage, contact us directly at:  
[email protected]
to add any of them to your order.

East Broad Top Railroad

Combination Car 15