Our Quick Pic Book series shows the subjects in extensive black & white

photographs which have often been digitally edited to best exhibit the details.

The 3 bay steel hoppers were for the most part originally 2 bay cars that were stretched which is why the numbering sequence is not in exact order. The two bay hoppers were built in 2 versions, The original batch was built by the Pressed Steel Car Company and the later batch by the Orbisonia Shops of the EBT using the PSCC cars as a pattern.This book shows the details of the basic car in separate chapters. There are examples of both styles of trucks, the ones with the cast brake hanger hole and the ones with the bolt on ones for use where the cast ones had broken.

These cars have been sold to narrow gauge railroads throughout the US for

ballast and M-O-W work including the White Pass & Yukon, Durango & Silverton, Cumbres & Toltec Scenic Railroad, Sumpter Valley Railroad, and others.

This book has 58 pages with 103 B&W photos

This book is spiral bound so it lays flat and has heavy duty,

full color, paper covers and is

8 1/2" tall and 5 1/2" wide.

Sample pages are below.

MSRP $22.99 + s&h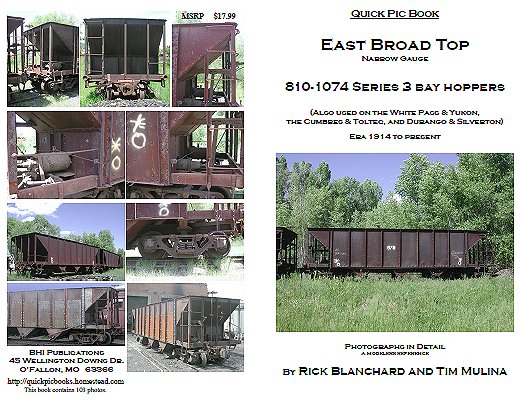 Below are a sampling of pages from the book.

Because of the actual USPS shipping costs, we highly recommend getting more than 1 book/title at a time. If there is no
"Add-To-Cart"
button on a specific title's webpage, contact us directly at:  
[email protected]
to add any of them to your order.

East Broad Top Railroad

3 Bay Steel Hoppers, 810-1074 series