Our Quick Pic Book series shows the subjects in extensive black & white photographs which have often been digitally edited to best exhibit the details.

These locomotives originally were built as the standard gauge C-41 class 2-8-0 locomotives. Ten were chosen in no particular order from the excess locos

and were rebuilt into narrow gauge 2-8-2 Mikado's by the D&RGW's own shop.

They had the most tractive effort of the locomotives on the D&RGW but that extra power came at a price. They were too heavy for many of the branches and were restricted to mostly the mainline narrow gauge trackage. Eight of the ten survived the scrappers but as of this date none are operating on the C&TS railroad.

***updated Summer 2015 - Colorado RR Museum in Golden has restored #491 to steam***

This book has 98 pages with 246 B&W photos

This book is spiral bound so it lays flat and has heavy duty, full cover, paper covers and is

8 1/2" tall and 5 1/2" wide.

Sample pages are below.

MSRP $29.99 + s&h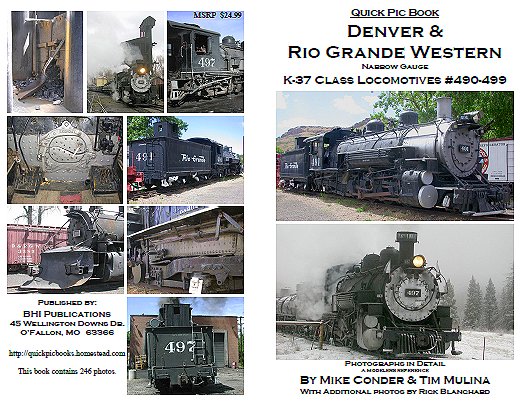 Below are some sample pages from the book.

Because of the actual USPS shipping costs, we highly recommend getting more than 1 book/title at a time. If there is no
"Add-To-Cart"
button on a specific title's webpage, contact us directly at:  
[email protected]
to add any of them to your order.

Denver & Rio Grande Western RR

K-37 Class Locomotives (road numbers 490-499)