Our Quick Pic Book series shows the subjects in extensive black & white photographs which have often been digitally edited to best exhibit the details.

These locomotives were the first locos bought by the new D&RGW after it came out of receivership. They were mostly in passenger service (though they could haul freight) until the War Dept. took 7 of the 10 in 1942 to run on the White Pass during WW2. The 3 units that stayed on the Grande survived but the other 7 were scrapped after the war. Number 473, 476, & 478 still run on the Durango & Silverton.

This book has 98 pages with 368 B&W photos

This book is spiral bound so it lays flat and has heavy duty,

full color, paper covers and is

8 1/2" tall and 5 1/2" wide.

Sample pages are below.

MSRP $29.99 + s&h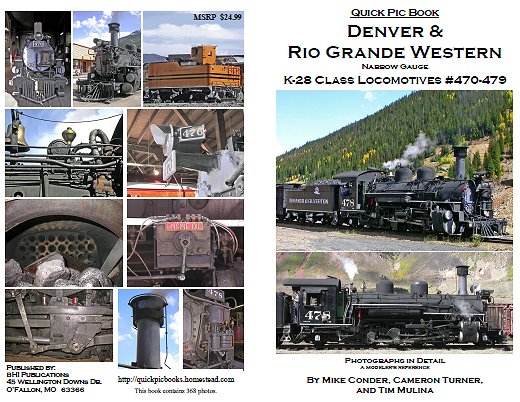 Below are sample pages from the book.

Because of the actual USPS shipping costs, we highly recommend getting more than 1 book/title at a time. If there is no
"Add-To-Cart"
button on a specific title's webpage, contact us directly at:  
[email protected]
to add any of them to your order.

Denver & Rio Grande Western RR

K-28 Class Locomotives (road numbers 470-479)

Here are some K-28 pictures of ours on Fine Art America