Our Quick Pic Book series shows the subjects in extensive black & white photographs which have often been digitally edited to best exhibit the details.

These cars were rebuilt by the D&RGW narrow gauge shops in Alamosa.

Originally they were built against the orders of management so they kept their

initial numbers. They were built from excess boxcars in the 3000-3749

number series and stock cars of the 5500-5849 series. This book explores

the spotting features between the types as well as other details of the car

and how they were used both in the oil service industry and elsewhere.

There are a combination of vintage and more recent photos in the book.

This book has 50 pages with 127 B&W photos

This book is spiral bound so it lays flat and has heavy duty,

full color, paper covers and is

8 1/2" tall and 5 1/2" wide.

Sample pages are below.

MSRP $19.99 + s&h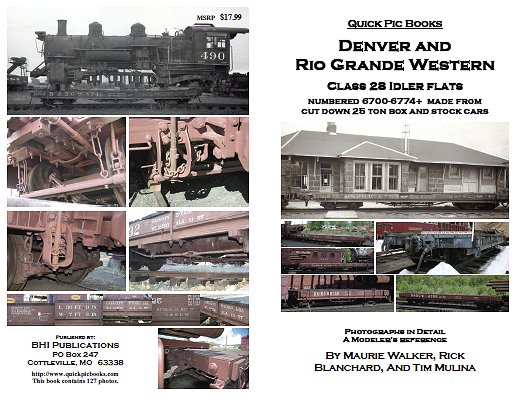 Below are some sample pages from the book.

Because of the actual USPS shipping costs, we highly recommend getting more than 1 book/title at a time. If there is no
"Add-To-Cart"
button on a specific title's webpage, contact us directly at:  
[email protected]
to add any of them to your order.

Denver & Rio Grande Railroad

Class 28,  #6700-6774+ Idler Flats