Colorado & Southern Railroad

Baggage - Mail 13

Our Quick Pic Book series shows the subjects in extensive black & white

photographs which have often been digitally edited to best exhibit the details.

This book shows the sole surviving member of this class in its entirety. There were

a pair of this class built in 1880 by the Pullman Palace Car Company for the Denver, South Park, and Pacific RR. In 1885, they were renumbered and reclassified as Baggage-Mail-Express cars. In 1889 the road was reorganized and renamed the Denver, Leadville & Gunnison and in 1894 they became DL&G cars. In 1899, a

number of small former UP narrow gauge lines in Colorado became the Colorado & Southern and 1905 the cars were rebuilt to eliminate the end platforms. During a 1906 shop fire, one was destroyed and that same year the other was reclassified

to Baggage-Mail. This book shows it inside & out in high detail and includes a

totally refurbished Mail compartment. In many of the photos there are rulers

present to show the actual dimensions. This car traveled with Coach 76 to the 1939 Worlds Fair and subsequent moves and finally, After 3 decades on the Black Hills Central RR, the BN donated them to the Colorado Historical Society in 1988.

This book has 94 pages with 128 B&W photos

This book is spiral bound so it lays flat and has heavy duty,

full color, paper covers and is

8 1/2" tall and 5 1/2" wide.

Sample pages are below.

MSRP $29.99 + s&h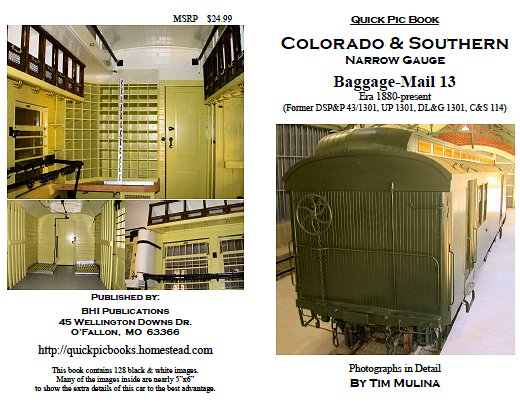 Below are a sampling of pages from the book.

Because of the actual USPS shipping costs, we highly recommend getting more than 1 book/title at a time. If there is no
"Add-To-Cart"
button on a specific title's webpage, contact us directly at:  
[email protected]
to add any of them to your order.