Colorado & Southern Railroad

Locomotive #60, B4C Class 2-6-0

Our Quick Pic Book series shows the subjects in extensive black & white

photographs which have often been digitally edited to best exhibit the details.

This book shows the entire Locomotive and tender as it sits in Idaho Springs where it was placed upon its retirement from the Colorado & Southern Railroad in 1941. Inside the book you will see all the details and overall views of this locomotive & tender necessary to model it or for fans of the Colorado & Southern to enjoy. Number 60 and the other members of this class were built for the Utah & Northern (a UP Subsidiary)  as their Nos. 1592-1597 by the Rhode Island Locomotive Works

in 1886. It subsequently was transferred to another UP Subsidiary, the

Denver, Leadville, & Gunnison. The DL&G along with the DSP&P became what

was the Colorado & Southern in 1899 and in 1908 it became part of the

Chicago, Burlington, & Quincy (Burlington Route) Railroad.

This book has 58 pages with 100 B&W photos

This book is spiral bound so it lays flat and has heavy duty,

full color, paper covers and is

8 1/2" tall and 5 1/2" wide.

Sample pages are below.

MSRP $24.99 + s&h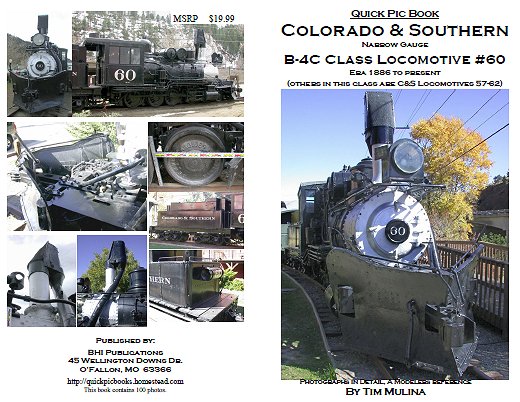 Below are a sampling of pages from the book.

Because of the actual USPS shipping costs, we highly recommend getting more than 1 book/title at a time. If there is no
"Add-To-Cart"
button on a specific title's webpage, contact us directly at:  
[email protected]
to add any of them to your order.