Colorado & Southern Railroad

Coach 76 (road nos. 74-76)

Our Quick Pic Book series shows the subjects in extensive black & white

photographs which have often been digitally edited to best exhibit the details.

This book shows the sole surviving member of this class in its entirety. The level

of detail inside and out harken back to when railroad coaches were seen as a

direct indication of the quality of the railroad overall. The car was heated by a

Baker Heater system, a form of steam heat radiators. With interior wood inlay work

and brass fittings, this car was certainly built to impress. The photos in this book were printed larger than normal often with 1 photo per page and have rulers in

many of them to show the exact measurements of the details. When the CB&Q was dismantling or widening the gauge of their Colorado lines, they retained this car

and two others along with Locomotive #9 to run at the 1939 New York Worlds Fair painted CB&Q with tiny C&S lettering to denote actual ownership and then stored in the Q's Aurora, IL shops. In 1948/49 the trainset was brought out of storage for

the Chicago Railroad Fair that ran those years. After 3 decades on the Black Hills Central RR, the BN donated them to the Colorado Historical Society in 1988.

This book has 94 pages with 135 B&W photos

This book is spiral bound so it lays flat and has heavy duty,

full color, paper covers and is

8 1/2" tall and 5 1/2" wide.

Sample pages are below.

MSRP $29.99 + s&h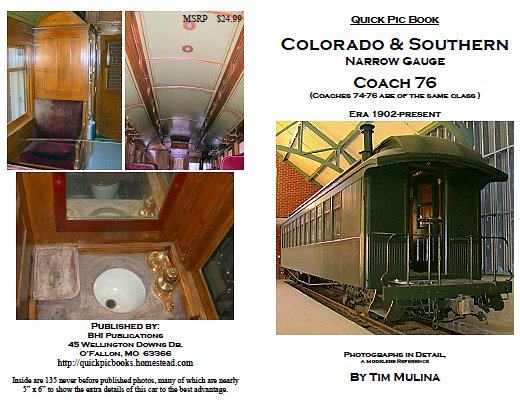 Below are a sampling of pages from the book.

Because of the actual USPS shipping costs, we highly recommend getting more than 1 book/title at a time. If there is no
"Add-To-Cart"
button on a specific title's webpage, contact us directly at:  
[email protected]
to add any of them to your order.