Climax

Class B, 2 Truck

Logging Locomotive

Our Quick Pic Book series shows the subjects in extensive black & white

photographs which have often been digitally edited to best exhibit the details.

This book shows the details of this unit as it sits today. Climax Locomotives were designed for the same purpose as the Shay, Heisler, and Williamette locomotives. They all were designed to transfer the steam power through gears to the trucks in one way or another instead of a direct link as is common on normal steam locomotives. This allowed them to run slower and yet be able to pull more of a load up steeper grades, over poorly laid and uneven track thus they were perfect for logging operations nationwide. One of the most common customizations by customers was

to change out the truck gauge. They could use Standard or Narrow gauge trucks.

This book has 50 pages with 79 B&W photos

This book is spiral bound so it lays flat and has heavy duty,

full color, paper covers and is

8 1/2" tall and 5 1/2" wide.

Sample pages are below.

MSRP $19.99 + s&h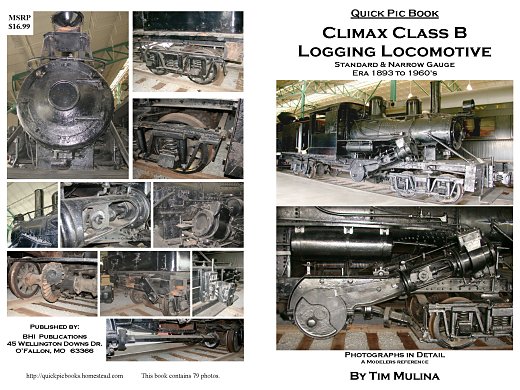 Below are a sampling of pages from the book.

Because of the actual USPS shipping costs, we highly recommend getting more than 1 book/title at a time. If there is no
"Add-To-Cart"
button on a specific title's webpage, contact us directly at:  
[email protected]
to add any of them to your order.