Our Quick Pic Book series shows the subjects in extensive black & white photographs which have often been digitally edited to best exhibit the details.

This book shows all the details of 9908 top to bottom. This unit which was built

by Budd in 1939 was the last of the Zephyrs with the carbody housing the

motor and doubling as a mail/baggage car as well. It originally powered the

General Pershing Zephyr and was the last "shovelnose" engine in service.

This unit can be seen at the National Museum of Transportation in St. Louis, MO

This book has 50 pages with 100 B&W photos

This book is spiral bound so it lays flat and has heavy duty,

full color, paper covers and is

8 1/2" tall and 5 1/2" wide.

Sample pages are below.

MSRP $16.99 + s&h

(all shipped via USPS Priority Mail)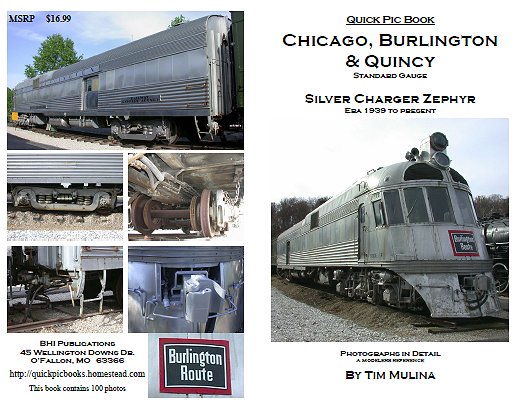 Below are a sampling of pages from the book.

Because of the actual USPS shipping costs, we highly recommend getting more than 1 book/title at a time. If there is no "Add-To-Cart" button on a specific title's webpage, contact us directly at:   sales@bhipubs.com

to add any of them to your order.

Burlington Route (CB&Q)

Silver Charger  Zephyr