Below are a sampling of pages from the book.

Because of the actual USPS shipping costs, we highly recommend getting more than 1 book/title at a time. If there is no
"Add-To-Cart"
button on a specific title's webpage, contact us directly at:  
[email protected]
to add any of them to your order.

Our Quick Pic Book series shows the subjects in extensive black & white photographs which have often been digitally edited to best exhibit the details.

This book shows the details inside and out of these locomotives.

The SD70MAC is one of the most popular locomotives on the BNSF and

other railroads and bridged the era where most railroads stayed away from

AC powered traction motors in their units to the much more accepted now

AC powered ones. In this book both the early version of the larger cab and the

newer version of it are shown. There are two big differences in the two from

the appearance point of view. First is that the early cabs had not yet been

isolated from the frame/body of the locomotive as they were on the later

version. That means that the early units gave much rougher and noisier ride

to the crews. The second difference from a cosmetic point is that the front

door on the nose switched from the fireman's side on the early units to the  engineer's side on the later units. Both the older trucks and the newer HTCR

trucks are shown in detail in this book as well as the cab interior and much more.

This book has 34 pages with 89 B&W photos

This book is spiral bound so it lays flat and has heavy duty,

full color, paper covers and is

8 1/2" tall and 5 1/2" wide.

Sample pages are below.

MSRP $19.99 + s&h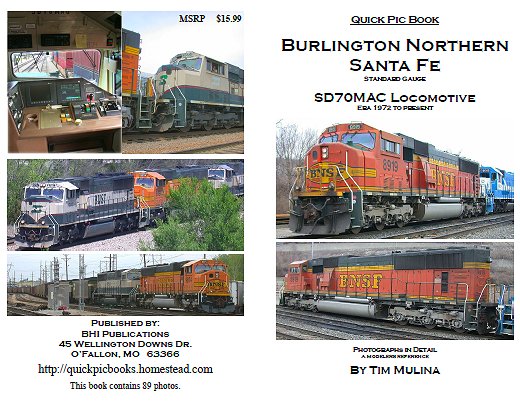 Burlington Northern Santa Fe

BNSF

SD70MAC Locomotives