Below are a sampling of pages from the book.

Because of the actual USPS shipping costs, we highly recommend getting more than 1 book/title at a time. If there is no
"Add-To-Cart"
button on a specific title's webpage, contact us directly at:  
[email protected]
to add any of them to your order.

Our Quick Pic Book series shows the subjects in extensive black & white

photographs which have often been digitally edited to best exhibit the details.

This book shows the details inside and out of these locomotives.

The SD40-2 was the prime road locomotive of the Class 1 roads from the mid 1970's to early 1990's and the roads that formed the BNSF were no exception. There are photos of them in BN and Santa Fe paint jobs as well as the BNSF pumpkin. In this book you will see chapters dealing with the exterior of both the 40-2 and 45-2

locomotives including focuses on the differences that each railroad brought to the merger such as brake wheel vs. ratchet and there is a chapter on the cab interior using the standard design from EMD as was seen in a KCS SD40-2. The views of the tops of these units show both the original type of radiator fans as well as the newer quieter versions. As of the writing of this book there were over 700 SD40-2 locomotives in service on the BNSF. The majprioty of the photos in this book are heavily captionedto explain and describe the features that are pertinent in them.

This book has 58 pages with 102 B&W photos

This book is spiral bound so it lays flat and has heavy duty,

full color, paper covers and is

8 1/2" tall and 5 1/2" wide.

Sample pages are below.

MSRP $19.99 + s&h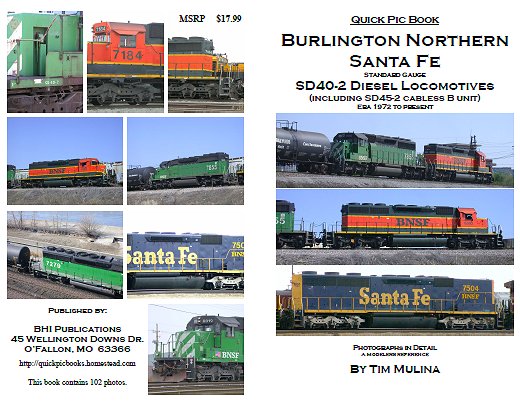 Burlington Northern Santa Fe

BNSF

SD40-2 Locomotives

and SD45-2 cabless units