Below are a sampling of pages from the book.

Because of the actual USPS shipping costs, we highly recommend getting more than 1 book/title at a time. If there is no
"Add-To-Cart"
button on a specific title's webpage, contact us directly at:  
[email protected]
to add any of them to your order.

Our Quick Pic Book series shows the subjects in extensive black & white

photographs which have often been digitally edited to best exhibit the details.

This book shows the details inside and out of these locomotives.

Though built in General Electric's Erie, PA Plant, there are two distinctly

separate versions of this locomotive in this book. Though they are essentially

identical internally, there are external features such as the cab roof shape

that varied between the first batch of former ATSF units that were built

for high speed intermodal service and wore the revived Super Chief

red and silver paint, and the second order which wore road numbers

560-582 on the ATSF and later on the BNSF that have the gull wing cab

roof to take into account clearance along the line. Those that came from

the BN had the standard roof profile. Though at the time these photos

were taken, there were still Super Chief painted units that just had the

cabs or the long carbody side "patched", the BNSF was running them through

the paint shop as fast as possible to get them into the orange BNSF paint

scheme with the yellow oval reminiscent of the old Santa Fe on the nose.

This book has 50 pages with 77 B&W photos

This book is spiral bound so it lays flat and has heavy duty,

full color, paper covers and is

8 1/2" tall and 5 1/2" wide.

Sample pages are below.

MSRP $19.99 + s&h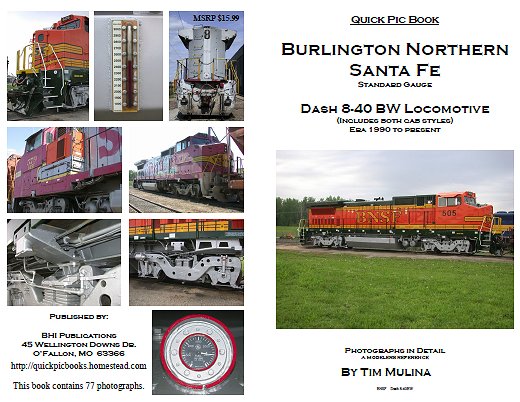 Burlington Northern Santa Fe

BNSF

Dash 8-40BW Locomotives