Below are a sampling of pages from the book.

Because of the actual USPS shipping costs, we highly recommend getting more than 1 book/title at a time. If there is no
"Add-To-Cart"
button on a specific title's webpage, contact us directly at:  
[email protected]
to add any of them to your order.

Our Quick Pic Book series shows the subjects in extensive black & white photographs which have often been digitally edited to best exhibit the details.

These locomotives were used by both the Southern Pacific and the Western Pacific due to a compromise in 1943 with the War Production Board. The SP wanted

more of their GS-4 class locomotives such as the 4449 which still exists today

and yet the WP wanted more of a dual use locomotive so this is what they got. The

WP was allocated 4 of the class and the rest went to the SP. It did not have a lot of the features of the pre-war SP locos streamlining due to war needs and for that reason plus the fact that they were compromise locos and others they have been referred to as the War Baby Daylights. Unfortunately in the rush to dieselize railroads, only 1 of the class was saved and that is the subject of this book.

It is seen up close and in detail where it is on display at the National Museum of Transportation in St. Louis, MO. The book also includes some vintage photos taken when it was awaiting delivery to the Museum in the late 1950's by Maurie Walker.

This book has 70 pages with 214 B&W photos

This book is spiral bound so it lays flat and has heavy duty,

full color, paper covers and is

8 1/2" tall and 5 1/2" wide.

Sample pages are below.

MSRP $19.99 + s&h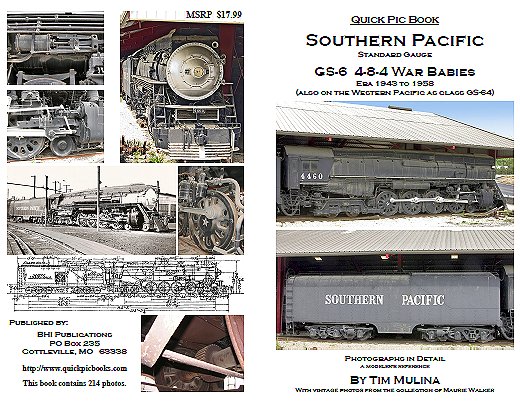 Southern Pacific 4-8-4 GS-6 Loco /

Western Pacific 4-8-4 GS 64 Loco