Rio Grande Southern Railroad

Goose #5 - Wayne Bus Body

Our Quick Pic Book series shows the subjects in extensive black & white photographs which have often been digitally edited to best exhibit the details.

This Goose is one of three that were built the same, #3,#4, & #5. They were intended to carry the few passengers the RGS had along with Less than car load freight. By doing this the fleet of Geese kept the RGS solvent many years past

when common sense said it should have gone into bankruptcy. After World War 2, these three geese were rebuilt with Wayne Bus Bodies on the front end and the freight box opened up with seats installed in it for additional passengers. They kept the RGS going into the early 1950's when even the tourism boom was not enough.

This book has 62 pages with 106 B&W photos

This book is spiral bound so it lays flat and has heavy duty,

full color, paper covers and is

8 1/2" tall and 5 1/2" wide.

Sample pages are below.

MSRP $27.99 + s&h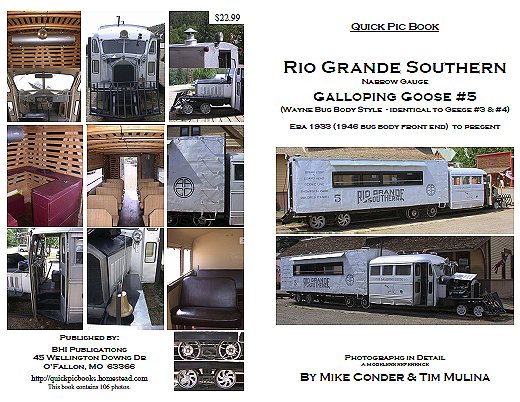 Below are some pages from the book.

Because of the actual USPS shipping costs, we highly recommend getting more than 1 book/title at a time. If there is no
"Add-To-Cart"
button on a specific title's webpage, contact us directly at:  
[email protected]
to add any of them to your order.