This locomotive was built by Brooks over

100 years ago for the Colorado & Northwestern,

it ran out of Boulder at one time. The C&Nw

ended up as the Denver, Boulder, & Leadville

until 1919 when mother nature decided they

did not need to run trains anymore and it ended

up the Denver Scrappers "Morse Brothers"

which scrapped out much of the Colorado NG Railroads. Instead of being scrapped it was

traded to the C&S where she ran through 1943.

It sat in their yard for a few years until it

was discovered by a member of the Rocky Mountain RR Club after WW2. It ended up

going to the RGS in the late 1940's and was

almost scrapped at the end of the RGS but

for the efforts of one man in Boulder who spearheaded the efforts for the city to be able to buy it for the city park. It sat in the park for decades occasionally getting a new coat of paint applied. It is on loan now to the CO RR Museum in Golden painted as Colorado & Northwestern #30

This book is spiral bound so it lays flat

and has heavy duty,

full color, paper covers. It is 8 1/2" tall and

5 1/2" wide.

Sample pages are below.

MSRP $29.99 + s&h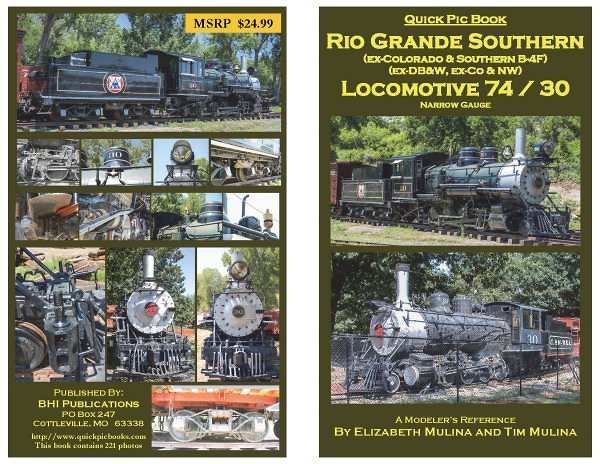 Below are some sample pages from the book. Just click

on a page and they will expand with a menu at the top.

Because of the USPS shipping costs, we highly recommend getting more than 1 book/title

at a time. If there is no
"Add-To-Cart"
button on a specific title's webpage, contact us directly at:  
[email protected]
to add or place your order.

Rio Grande Southern

(also ex- C&S 74/30, Co & NW 30, DB&W 30)

B-4F Class Locomotive #74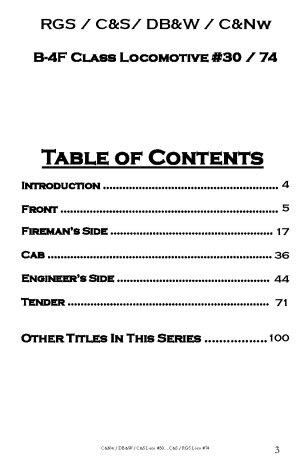 This book has

95 pages with 221 photos