This book shows most of the known vintage photos of the work cars

(Maintenance of Way) of the Maine two foot gauge railroads in service

and at asssorted locations. It includes excerpts from Receiver's

Inventories from various roads as well as more recent measurment data.

There are also some more recent photos of the surviving equipment

There are also many drawings with dimensional data that is as complete as possible.

This book has 102 pages, 163 B&W photos, and 17 assorted plans and drawings

This book is spiral bound so it lays flat and has heavy duty, full cover, paper covers and is

8 1/2" tall and 5 1/2" wide.

Sample pages are below.

MSRP $29.99 + s&h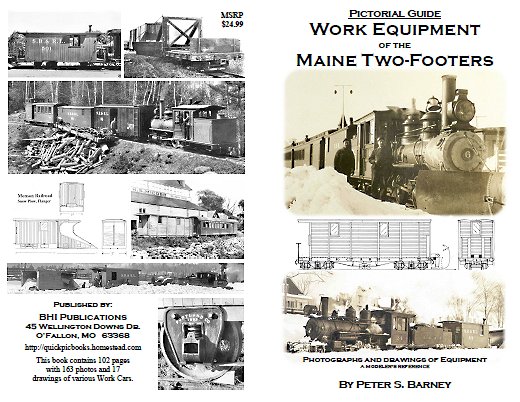 Below are a sampling of pages from the book. Just click

on a page and they will expand with a menu at the top.

Because of the actual USPS shipping costs, we highly recommend getting more than 1 book/title at a time. If there is no
"Add-To-Cart"
button on a specific title's webpage, contact us directly at:  
[email protected]
to add any of them to your order.

Work Equipment

of the

Maine Two-Footers