These cars were the final result of a number of rebuildings from the

late 1800's onward. The cars in this book range in locations all over

Colorado & New Mexico, on the Georgetown Loop, D&SNG, and C&TSNG

operating railroads, as well as Museums and National Park displays.

Aside from the ends, door, and window variations, these cars had many

other significant differences. They include differences in the car end

sheathing, differences in roofing materials, differences in buffer blocks,

and also one of the more obvious ones is the differences in the

routing of the air brake retainer pipe and retainer valve location.

This book has one of the largest numbers of photos in any of our

books just due to the nine cars we cover in it. Where there are

things that are duplicated, we just did not include them all but

for the rest we made sure the reader has plenty to work with.

We included 18 full color photos on the covers to show all of

the many variations in the shades and colorings of these cars.

This book has 98 pages with 504 photos

This book is spiral bound so it lays flat

and has heavy duty,

full color, paper covers. It is 8 1/2" tall and

5 1/2" wide.

Sample pages are below.

MSRP $29.99 + s&h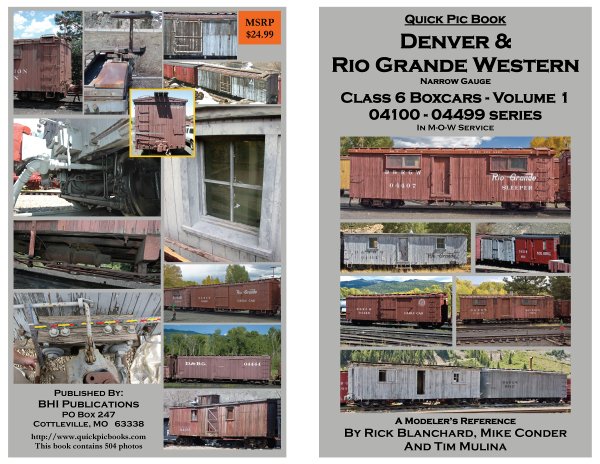 Below are some sample pages from the book. Just click

on a page and they will expand with a menu at the top.

Because of the USPS shipping costs, we highly recommend getting more than 1 book/title

at a time. If there is no
"Add-To-Cart"
button on a specific title's webpage, contact us directly at:  
[email protected]
to add or place your order.

Denver & Rio Grande Western

Narrow Gauge Class 6 Boxcars in MOW Service

Volume 1

Car series numbers 04100-04499