This FULL COLOR book is the first ever done on the Annual event on

the Durango & Silverton Narrow Gauge Railroad called RAILFEST.

For the past 13 years, Railfest has been held every August to showcase the

D&SNG Railroad and many other visiting pieces of equipment. There are special

trains and photographer's specials. This year Jerry Day took his camera and made his way down there to shoot the special train the D&SNG had with green varnish

and K-28 carrying the Moffat Tunnel herald along with Eureka & Palisades #4

Eureka and Rio Grande Southern Motor #5 from Dolores.

Inside the book are shots from angles not normally available, photos of

equipment inside and around both the Durango and of the Silverton

D&SNG Facilities, details inside Business Car B-3 NOMAD and before/after

shots of the 3 cars painted green. There is a chapter devoted to the Silverton Northern Facilities in Silverton and the 3' ga. occupants of it. There are also

photos of the town of Silverton itself showing off the variety of structures.

This book has 56 pages with 169 color photos

This book is spiral bound so it lays flat and has heavy duty,

full color, paper covers and is

8 1/2" tall and 5 1/2" wide.

Sample pages are below.

MSRP $34.99 + s&h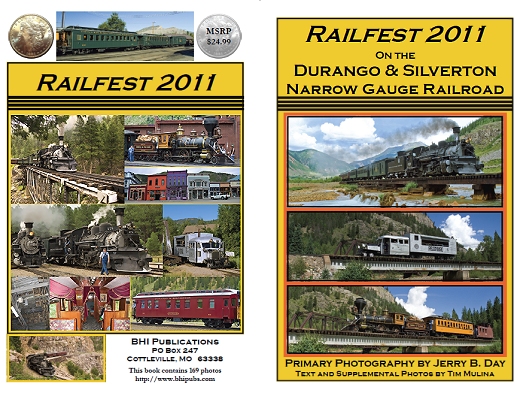 Below are a sampling of pages from the book. Just click

on a page and they will expand with a menu at the top.

Because of the actual USPS shipping costs, we highly recommend getting more than 1 book/title at a time. If there is no
"Add-To-Cart"
button on a specific title's webpage, contact us directly at:  
[email protected]
to add any of them to your order.

Railfest 2011

on the

Durango & Silverton Narrow Gauge Railroad