This FULL COLOR book is THE book modelers have been waiting for to

help them with realistic weathering and appearances of these locomotives.

Included are vintage photos, photos taken at the Narrow Gauge Motel in Alamosa and the CRRM, as well as on the two surviving sections of the D&RG/D&RGW narrow gauge lines,the Cumbres & Toltec Scenic Railroad and the Durango & Silverton.

Includes special focus on running gear/rods, cab interiors, valve gear and

cylinders, smokeboxes as well as stacks. Visible places that can get sooty,

cinders, oily, greasy, and have any liquids discoloring the area are all shown.

This book has 46 pages with 157 color photos

This book is spiral bound so it lays flat and has heavy duty,

full color, paper covers and is

8 1/2" tall and 5 1/2" wide.

Sample pages are below.

MSRP $29.99 + s&h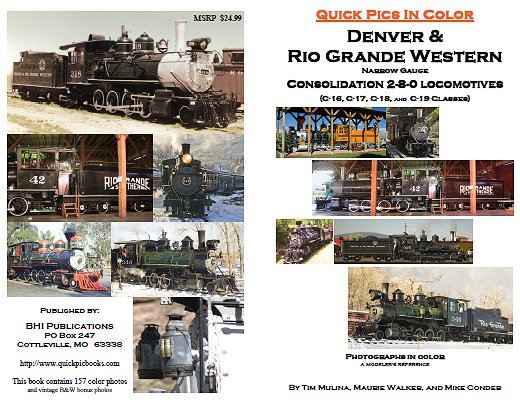 Below are a sampling of pages from the book. Just click

on a page and they will expand with a menu at the top.

Because of the actual USPS shipping costs, we highly recommend getting more than 1 book/title at a time. If there is no
"Add-To-Cart"
button on a specific title's webpage, contact us directly at:  
[email protected]
to add any of them to your order.

Denver & Rio Grande Western Railroad in Color

Consolidation 2-8-0 Locos C-16, C-17, C-18 & C-19