This FULL COLOR book shows the details and weathering variations

of these cars as they exist today in Chama, NM on the Cumbres & Toltec Scenic Railroad. There are two single bladed flangers, OJ is in MOW Gray, OK is in

Freight Car Red, and OL one of the two double bladed flangers is gray as well.

Though originally built in the late 1880's as wooden framed flangers,

two were rebuilt in 1937 & the other in 1940 with steel frames

into their current configuration and these were used on the system.

During the time of the photography of this book they were undergoing maintenance and rebuilding/repainting by the C&TS or Friends of the C&TS.

OJ & OK were assigned to Gunnison until 1956. OJ was used mostly in the yards at Crested Butte, Floresta, and Anthracite. OK was used on the Black Canyon Line, Crested Butte & Baldwin Branches. OL was assigned to Salida until 1956 where it was used to keep Marshall & Poncha Passes clear as well as the Monarch Branch. In 1956 they all were reassigned to Alamosa and then sold in 1970 for service on the C&TS.

This book has 50 pages with 187 color photos

This book is spiral bound so it lays flat and has heavy duty, full color, paper covers. It is 8 1/2" tall and

5 1/2" wide.

Sample pages are below.

MSRP $29.99 + s&h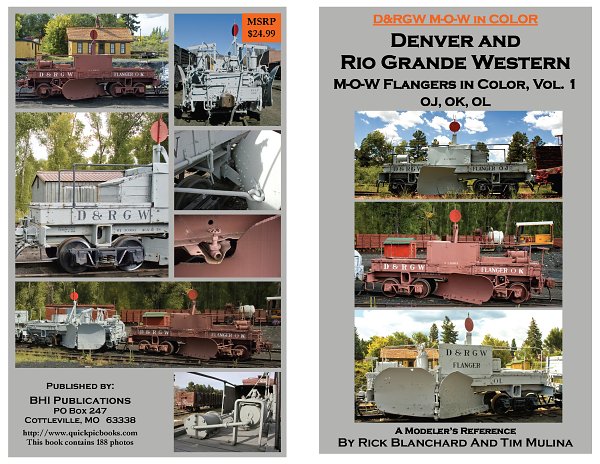 Below are some sample pages from the book. Just click

on a page and they will expand with a menu at the top.

Because of the USPS shipping costs, we highly recommend getting more than 1 book/title

at a time. If there is no
"Add-To-Cart"
button on a specific title's webpage, contact us directly at:  
[email protected]
to add or place your order.

Denver & Rio Grande Western Flangers in Color Volume 1

OJ, OK, OL in Chama, NM