This FULL COLOR book is an overview of the 2006 Chama Steam excursion

and highlights particular equipment not often run together anymore. It contains

day & night shots that we felt would be good to see in color to help modelers and historians. It also includes a 5 car pipe gon/idler cut of cars last seen 40+ years ago.

The following subjects are in this book:

K-36 Class Locos (with & w/o plows) doublehead & pushers, Flanger OL, 6700 Flats, 1500-1899 High Side Gon, 3000-3749 Box Cars, 6200-6219 Flat,

40' Reefers, 700 Drop Bottom Gons, UTLX Narrow Frame Tank Cars,

04904 Work Car, Short Caboose #0579, C&TS homebuilt Caboose #0306.

This book has 46 pages with 100 color photos

This book is spiral bound so it lays flat and has heavy duty, full color, paper covers. It is

8 1/2" tall

and 5 1/2" wide.

Sample pages are below.

MSRP $29.99 + s&h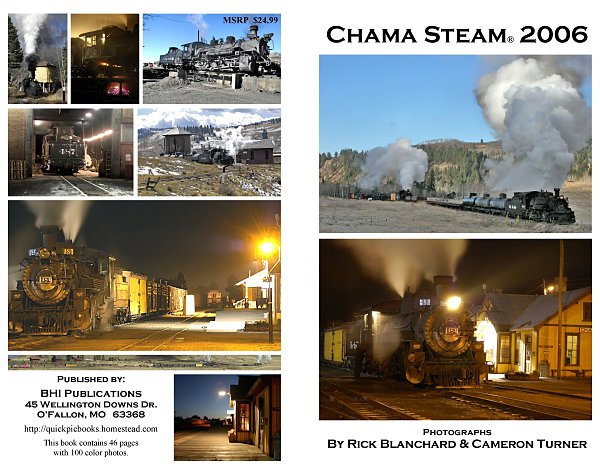 Below are sample pages from the book. Just click

on a page and it will expand with a menu at the top.

Because of USPS shipping costs, we highly recommend getting more than 1 book/title

at a time. If there is no

"Add-To-Cart" button on a specific title's webpage,

to add to, or place your order.

Denver & Rio Grande Western Railroad in Color

Chama Steam 2006