This FULL COLOR book is an overview of the 2002 Chama Steam excursion

and highlights particular equipment not often run together anymore. It contains selected shots that we felt would be good to see in color to help modelers and historians get things right. The weather included a snowstorm on Cumbres Pass.

The following subjects are in this book:

K-37 & K-27 Class Locomotives, #1000-1499 High Side Gondolas,

#3000-3749 Box Cars, #150-169 40' Reefers, #6200-6219 Flat Cars, UTLX Narrow Frame Tank Cars, 30' Caboose #0503, C&TS homebuilt Caboose #0306.

This book has 46 pages with 101 color photos

This book is spiral bound so it lays flat and has heavy duty, full color, paper covers. It is

8 1/2" tall

and 5 1/2" wide.

Sample pages are below.

MSRP $29.99 + s&h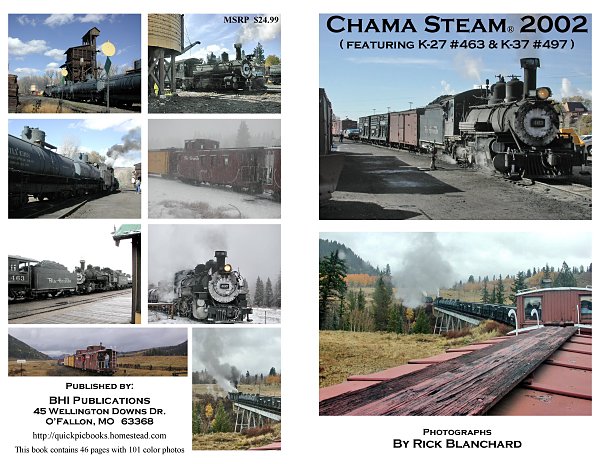 Below are some sample pages from the book. Just click

on a page and they will expand with a menu at the top.

Because of the USPS shipping costs, we highly recommend getting more than 1 book/title

at a time. If there is no

"Add-To-Cart" button on a specific title's webpage,

to add or place your order.

Denver & Rio Grande Western Railroad in Color

Chama Steam 2002