Below are a sampling of pages from the book.

Because of the actual USPS shipping costs, we highly recommend getting more than 1 book/title at a time. If there is no "Add-To-Cart" button on a specific title's webpage, contact us directly at:   sales@bhipubs.com

to add any of them to your order.

Our Quick Pic Book series shows the subjects in extensive black & white

photographs which have often been digitally edited to best exhibit the details.

This book shows the details inside and out of these locomotives.

The Texas class locomotives were designed for fast freight service across

Texas and the desert southwest. They came about in 3 different orders

across the years from 1938 to 1944. The Madame Queen which was locomotive #5000 is not counted here as a separate order because it was a trial and

many changes were made to that experimental unit. This locomotive was the

lead unit in the final order of 25 units of this class the Santa Fe placed

and were built in 1944 as oil burners instead of coal. Built by Baldwin

Locomotive Works shops in Philadelphia, PA these huge locomotives

weighed in at  999,000 lbs., just 1,000 pounds less than 1 million pounds

and when they passed, the earth moved and trembled in their presence.

In addition to the cab views, there are plenty of views of all the

details of this locomotive including the 74" diameter drivers

which were the largest ever applied to 2-10-4 type locomotives.

This book has 70 pages with 136 B&W photos

This book is spiral bound so it lays flat and has heavy duty,

full color, paper covers and is

8 1/2" tall and 5 1/2" wide.

Sample pages are below.

MSRP $17.99 + s&h

(all shipped via USPS Priority Mail)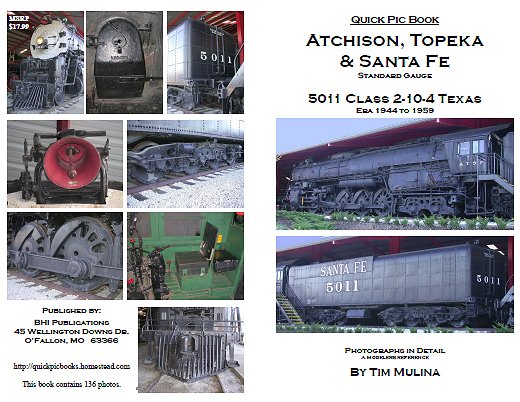 Atchison, Topeka, and Santa Fe

Texas Class  5011  2-10-4