Below are a sampling of pages from the book.

Because of the actual USPS shipping costs, we highly recommend getting more than 1 book/title at a time. If there is no "Add-To-Cart" button on a specific title's webpage, contact us directly at:   sales@bhipubs.com

to add any of them to your order.

Our Quick Pic Book series shows the subjects in extensive black & white

photographs which have often been digitally edited to best exhibit the details.

This book shows the details inside and out of these 50 locomotives.

The Pacific type locomotives were used throughout the US as both passenger

and freight locomotives when they first came on the scene but not long after,

even the fast freight business had gone toward more locomotives that were

purpose built for that reason because it was found the Pacific's were the

perfect match between power, tractive effort, and everything else necessary

for a great passenger locomotive and that is where they became the most

famous on almost every road they ran on. they started out as an expansion of

the WW1 USRA Mikado type locomotives and quickly proved their worth.

These 50 were the last of 724 Pacific types bought by the Santa Fe and

they were delivered between 1919-1924. Along with a folio drawing of them,

there is a 1950 assignment list showing all of them were still in service and

what they were doing in the back of this book. They had an interesting feature

I had never seen on a steam locomotive tender before that I had to get with some

old heads to tell me why there were so many extra valves on the front of the

tender. The description on page 58 tells all about the extra lines and appliances.

This book has 70 pages with 137 B&W photos

This book is spiral bound so it lays flat and has heavy duty,

full color, paper covers and is

8 1/2" tall and 5 1/2" wide.

Sample pages are below.

MSRP $17.99 + s&h

(all shipped via USPS Priority Mail)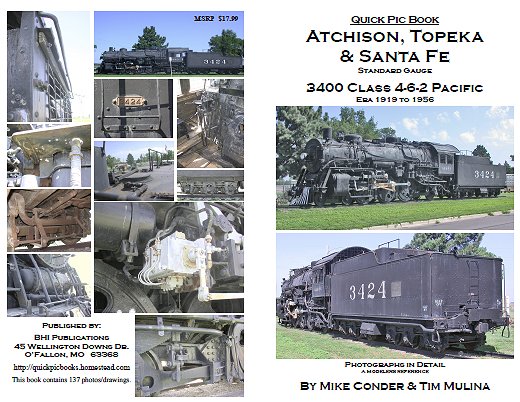 Atchison, Topeka, and Santa Fe

Pacific Class  3400  4-6-2