The Sandy River built this railbus in May 1925 from a 1 1/2 ton Reo Speed Wagon Chassis.

Originally it had a single axle front wheel but not long after being placed into service that was replaced by a smoother riding 2 axle truck.

As the Table of Contents to the right illustrates, there are many Vintage photos to go with the high quality digital images that shows the details SRRL amd Bridgton modelers and fans want.

This book has

62 pages with 92 illustrations

This book is spiral bound so it lays flat and has heavy duty, full color, paper covers.

It is 8 1/2" tall

and 5 1/2" wide.

       Sample pages            are below.

MSRP $29.99 + s&h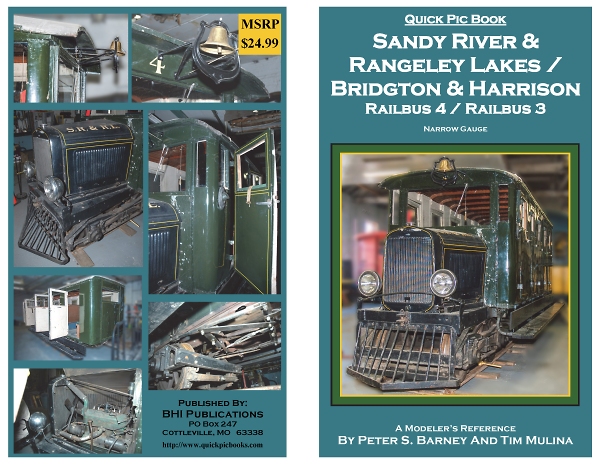 Below are sample pages from the book. Just click

on a page and it will expand with a menu at the top.

Because of the USPS shipping costs, we highly recommend getting more than 1 book/title

at a time. If there is no
"Add-To-Cart"
button on a specific title's webpage, contact us directly at:  
[email protected]
to add or place your order.

Sandy River & Rangeley Lakes /

Bridgton & Harrison RR

Railbus 4

A Modeler's Reference

by Peter S. Barney & Tim Mulina