The Rangeley was built as part of a multiple car order. Both sides of the correspondence for the construction of it covers many pages and is included in the
SRRL Passenger Car Pictorial
.
This book shows the details inside and out and includes technical information about the car and the internal fittings that may not be known to the average reader. There are over some vintage photos and over 150 modern digital images.

There is also a floorplan.

This book has

100 pages with 208 illustrations

This book is spiral bound so it lays flat and has heavy duty, full color, paper covers.

It is 8 1/2" tall

and 5 1/2" wide.

       Sample pages            are below.

MSRP $24.99 + s&h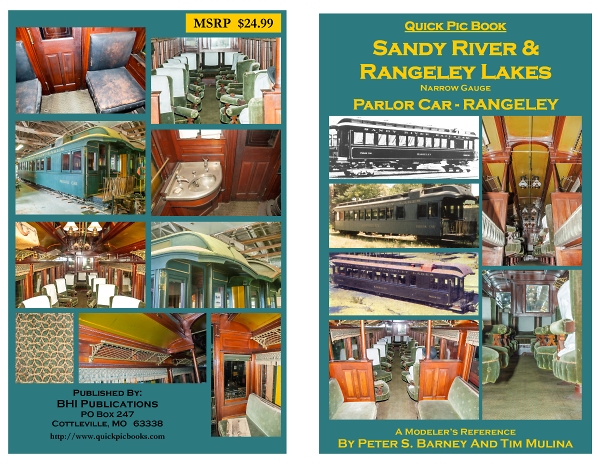 Below are sample pages from the book. Just click

on a page and it will expand with a menu at the top.

Because of the USPS shipping costs, we highly recommend getting more than 1 book/title

at a time. If there is no "Add-To-Cart" button on a specific title's webpage, contact us directly at:   sales@bhipubs.com

to add or place your order.

Sandy River & Rangeley Lakes

Parlor Car "RANGELEY"

A Modeler's Reference

by Peter S. Barney & Tim Mulina