The Sandy River Cabooses in this class

were built after the Maine Central gained

control of the road in 1913 with the

expectation of significant traffic increases.

All 3 initially survived but one has been lost

since but there have been two made using

the plans of 556. In the US, the Sandy River Railroad in Phillips, ME has one and the

other is a resident of Wales in the UK.

This detail book shows the cars as they were

and as they are now. It also discusses the variations between them and the repro. cars.

This book has

91 pages with 167 illustrations

This book is spiral bound so it lays flat and has heavy duty, full color, paper covers.

It is 8 1/2" tall

and 5 1/2" wide.

       Sample pages            are below.

MSRP $24.99 + s&h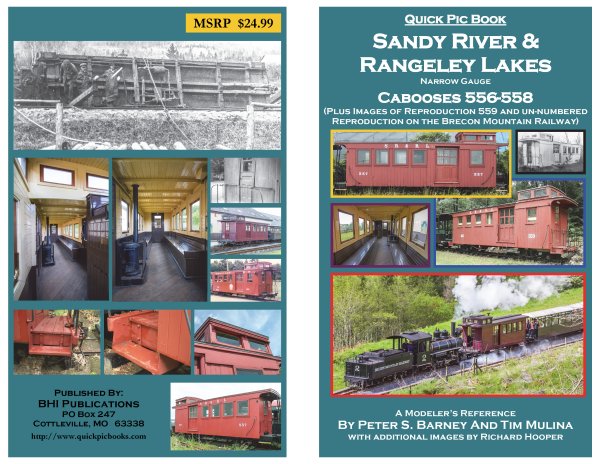 Below are sample pages from the book. Just click

on a page and it will expand with a menu at the top.

Because of the USPS shipping costs, we highly recommend getting more than 1 book/title

at a time. If there is no "Add-To-Cart" button on a specific title's webpage, contact us directly at:   sales@bhipubs.com

to add or place your order.

Sandy River & Rangeley Lakes

Cabooses 556-558

(plus reproduction 559 & Un-numbered on Brecon Mountain Railway)

A Modeler's Reference

by Peter S. Barney & Tim Mulina