The Monson Forney's 3 and 4 were photographed while 4 was running in Portland and 3 was in pieces being restored at Boothbay Village.

This gives us the opportunity to see the parts during the process as well as how they behave

and appear when the unit is operating too.

Most of the images are digitally enhanced so you can see the details better than if you were right there next to the actual locomotive.

This book has:

108 pages with 237 illustrations

This book is spiral bound so it lays flat and has heavy duty, full color, paper covers.

It is 8 1/2" tall

and 5 1/2" wide.

       Sample pages            are below.

MSRP $24.99 + s&h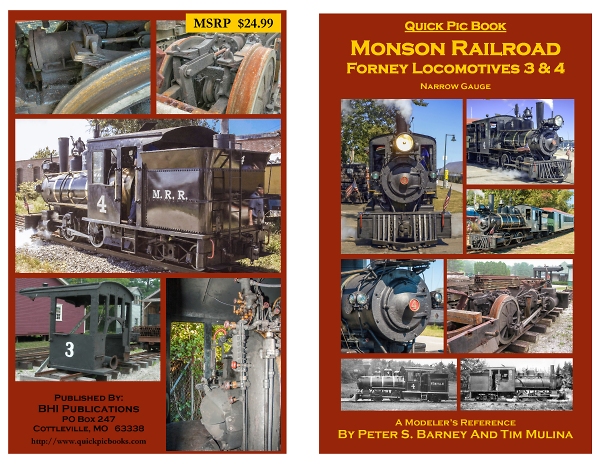 Below are sample pages from the book. Just click

on a page and it will expand with a menu at the top.

Because of the USPS shipping costs, we highly recommend getting more than 1 book/title

at a time. If there is no "Add-To-Cart" button on a specific title's webpage, contact us directly at:   sales@bhipubs.com

to add or place your order.

Monson Railroad

Forney Locomotives 3 and 4

A Modeler's Reference

by Peter S. Barney & Tim Mulina