This book contains photos of all the major

and most of the minor spotting differences between groups of Bridgton & Saco River Railroad Boxcars from 26 feet to 30 feet long.

There is a roster and information on them as well.

It is set up so that both the modeler and historian/railfan has plenty to keep them interested. There are a mix of vintage and modern digital images in this book with the digital ones enhanced to better show the details no matter how much shadow may be present.

This book has

108 pages with 438 illustrations

This book is spiral bound so it lays flat and has heavy duty, full color, paper covers.

It is 8 1/2" tall

and 5 1/2" wide.

       Sample pages            are below.

MSRP $29.99 + s&h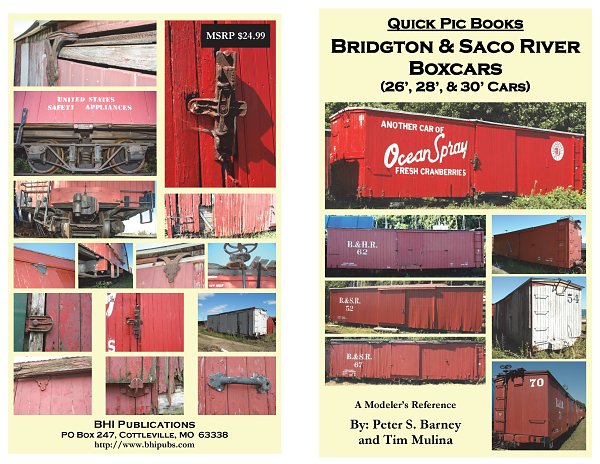 Below are sample pages from the book. Just click

on a page and it will expand with a menu at the top.

Because of the USPS shipping costs, we highly recommend getting more than 1 book/title

at a time. If there is no
"Add-To-Cart"
button on a specific title's webpage, contact us directly at:  
[email protected]
to add or place your order.

Bridgton & Saco River Railroad /

Bridgton & Harrison Railroad

Boxcars

A Modeler's Reference

by Peter S. Barney & Tim Mulina