Mastering Model Railroading,

Getting the results you want.

Scenery - Vol. 2

Rivers, Rapids, & Rushing Water

by Cameron Bryars

This book is spiral bound so it lays flat and has heavy duty,

full color, paper covers and is

8 1/2" tall and 5 1/2" wide.

Sample pages are below.

MSRP $19.99 + s&h

(all shipped via USPS Priority Mail)

This book covers how to make the most realistic water scenery ever demonstrated. Cameron

applied the combined knowledge of many

modelers with his own trial and error testing

to get the results we are certain you will agree

is some of the best in the world for this kind

of watercourse. In this book it takes you through the entire process from decisions needing to

be made before locations for the water is even

laid out all the way through troubleshooting

and final care for your finished product. There

is a section on correcting errors because this is

an art and no two people will apply these

techniques and information exactly the same.

There are prototype photos throughout as well.

This is a great book for techniques and inspiration.

This book has 48 pages with color photos & drawings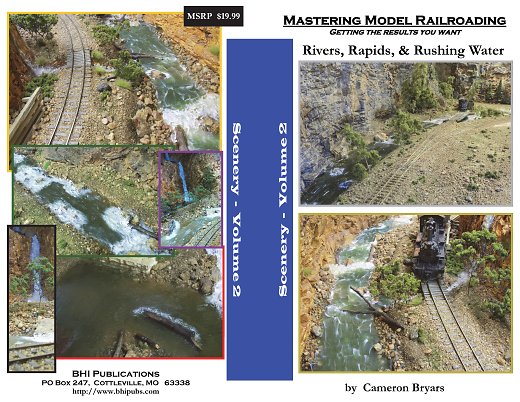 Below are some sample pages from the book.

Because of the actual USPS shipping costs, we highly recommend getting more than 1 book/title at a time. If there is no
"Add-To-Cart"
button on a specific title's webpage, contact us directly at:  
[email protected]
to add any of them to your order.