Mastering Model Railroading

Getting the results you want.

Modeling the Prototype - Vol. 1

Scratchbuilding - Beaver Brook Station

by Cameron Bryars

This book is spiral bound so it lays flat and has heavy duty,

full color, paper covers and is

8 1/2" tall and 5 1/2" wide.

Sample pages are below.

MSRP $19.99 + s&h

(all shipped via USPS Priority Mail)

This book takes a person who has never built a kit, much less scratchbuilt anything, through being able to reasonably demonstrate

the techniques and skills necessary to do so.

The Table of Contents lists the chapters of various aspects this book covers.

This is a great book for techniques and inspiration.

This book has 50 pages with detail photos & drawings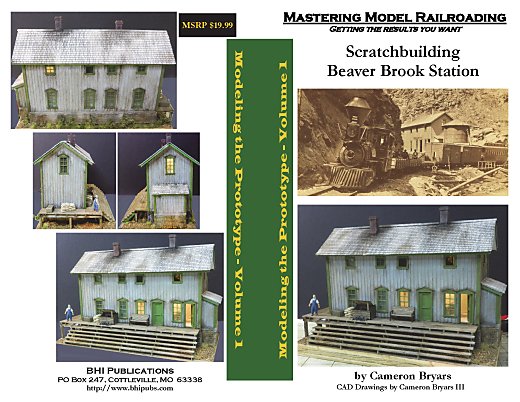 Below are some sample pages from the book.

Because of the actual USPS shipping costs, we highly recommend getting more than 1 book/title at a time. If there is no
"Add-To-Cart"
button on a specific title's webpage, contact us directly at:  
[email protected]
to add any of them to your order.