This is the first book in our series of

Advanced Skills for Modelers.

In it you will learn how to research and make a master pattern all the way through the moldmaking and  casting process

to painting for final display.

There sections on how to deal with damaged

or bad molds as well as troubleshooting

basic problems in castings.

Because this deals with casting hot metal, techniques in this book should only be undertaken by adults or under responsible

adult supervision. It is not recommended

for those under 15 years of age.

This book has

46 pages with Drawings and Photos

This book is spiral bound so it lays flat and has heavy duty, full color, paper covers.

It is 8 1/2" tall

and 5 1/2" wide.

       Sample pages            are below.

MSRP $19.99 + s&h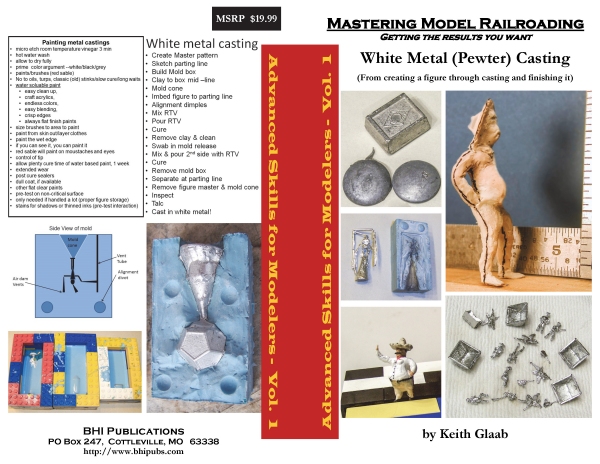 Below are sample pages from the book. Just click

on a page and it will expand with a menu at the top.

Because of the USPS shipping costs, we highly recommend getting more than 1 book/title

at a time. If there is no
"Add-To-Cart"
button on a specific title's webpage, contact us directly at:  
[email protected]
to add or place your order.

Mastering Model Railroading

Getting the results you want.

Advanced Skills for Modelers - Vol. 1

White Metal Casting (Pewter)

by Keith Glaab